This is a picture of my IDEa
I purchased my IDEa from the Atari Fan Store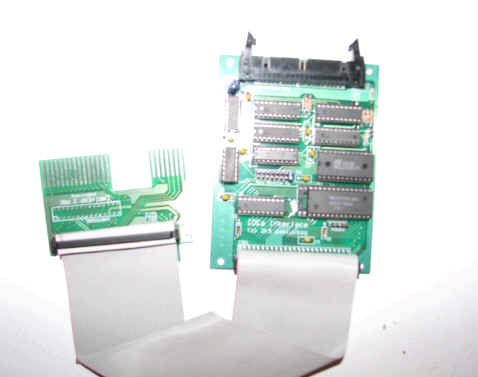 The IDEa (KMK/JŻ) IDE Interface allows you to attach an ATA (IDE) hard drive, a CF (Compact Flash) card or an ATAPI device (e.g. a CD-ROM drive) to your Atari 130XE computer. There are no special requirements on the device's manufacturer and model, the interface should work properly with most hard drives, CD-ROMs and CF cards. It should be taken into account, though, that the internal software - commonly known as IDE BIOS - that is burned into the EPROM and resides inside the Interface, knows only ATA devices and does not know ATAPI. This means that the system can only boot from a hard drive or a CF card (which are ATA devices), and to access CD-ROM or ZIP drive (which are ATAPI devices) you have to load additional software.

The general requirements to use the IDEa (KMK/JŻ) IDE Interface are as follows:
a standard Atari 130XE or an Atari 800XE computer; a 65XE will also work, if the computer is equipped with the Enhanced Cartridge Interface (ECI) connector. Also more than 64k RAM is recommended
a floppy disk drive - this is only required for installation.
an IDE hard drive (compliant to ATA-1 or later standard; at least ATA-2 is recommended).
The Interface's internal software (IDE BIOS) provides two modes of operation: native mode and emulation mode. The native mode uses a 512-byte physical blocks a logical data sector, the emulation mode uses the physical block to store two 256-byte logical data sectors. ALL existing DOSes require the emulation mode to work properly and limit the partition size to 16 MB.

Maximum drive capacity: 8388607 physical blocks on each device.
Maximum number of partitions: 15
Maximum capacity of a partition: 8388607 logical sectors
Logical sector length: 256 or 512 bytes (larger blocks will be implemented in the future); and 128 bytes as of IDE BIOS version 1.8.
Average speed (depends on the drive and DOS used):
- 50-80 kilobytes per second (native mode, R/W), or
- 30-45 kilobytes per second (emulation mode, reading), or
- 7-12 kilobytes per second (emulation mode, writing).
Fully 16-bit data transfers.
The device is automatically found and initialized by the OS.
The device's operation is fully OS compliant, no patches are needed.
Booting from any partition.
Write protection capability.
Jumpers to set the bus ID for the operating system.

What is included in IDEa kit:
IDEa interface
ECI adapter
Wire to connect IDEa interface with ECI adapter
DVD rom with software and documentation
This IDE interface is original invention of Polish electronics engineers and programmers Jacek Zuk, Michal Pasiecznik and Korad M. Kokoszkiewicz. Basically it will be working with any Atari XL/XE 8 bits computer with Enhanced Cartridge Interface. If you have other model you can mount it inside your computer. Please let me know if you would do that I will provide you connection diagram. Usually interface don't need additional power supply.
Interface works with all brand major hard drives and with some CF cards. Here is a list of hard drives and CF cards with it certainly works.
Some useful documents and informations
IDEa/KMK